Alpha's recruiter and engineering team found themselves in a familiar position. As a tech startup, they had to quickly find top full-stack engineering talent and therefore invested heavily in sourcing platforms like Glassdoor, Hired, and Vettery. Despite not having a technical background, Alpha's recruiter was on the hook for verifying which candidates actually possessed the coding skills on their résumés and which were exaggerating. As any recruiter can appreciate, that isn't an easy task these days.
So she turned to technology to configure a screening assessment for the various roles available. The affordable options like Devskiller included algorithm challenges but lacked adequate full-stack technology challenges or general ease-of-use without technical help. The more robust options like HackerRank and Codility were cost-prohibitive and only offered limited free trials accompanied by irritating sales outreach.
Code assessments shouldn't be a tradeoff between budget or bias
"We have a great employer brand — at any given time, we could have hundreds of candidates that merit screening," said Yair Aviner, Alpha's engineering manager. "But so many code screening platforms focus on massive corporations, not companies like ours, and charge ridiculous rates per candidate screened."
Code screening platforms are often a tradeoff between spending $20,000/year for unlimited candidates or instead arbitrarily selecting which candidates to screen and which to simply pass on to an interview. Many companies put themselves at risk of bias in such situations.
Skipping technical screenings became untenable however as Alpha's engineering team undertook larger and more important initiatives.
"Our onsite interviews are three hours and include at least three developers," said Aviner. "If we interview a candidate who lacks the necessary coding experience, that's an expense we can't afford. It's not fair to the candidate either."
Not only that, but Aviner stressed how Alpha seeks software engineers with a continuous growth mindset — engineers that are constantly in learning-mode and therefore comfortable with being at the edge of their comfort zone, tech wise. Ideally, Alpha's engineering team would spend as much time as possible during the on-site interview assessing those abilities rather than raw coding skills.
Saving $1,500 per hire and $17,000 on software
Fortunately, Alpha discovered Coderbyte on G2 which met their needs and budget. Without any technical support, their recruiter was able to configure full-stack challenges and quickly identify top candidates from a trove of applications. Not only that, but Coderbyte also includes real-time interviews and take-home projects, and all plans include unlimited candidates, assessments, and admins.
"We have a very modern tech stack," Aviner said. "Our core services and UIs are built using Typescript, Node, and Vue. We use PostgreSQL, MongoDB, and Redis, and we build both REST and GraphQL APIs. Coderbyte has challenges and assessments for each."
Since Coderbyte's top plan is just $3,000/year, Alpha is saving tens of thousands per year that it would cost for unlimited candidates on a competing platform like HackerRank or Codility. Further, Alpha is able to refocus onsite interviews to assess for growth mindsets.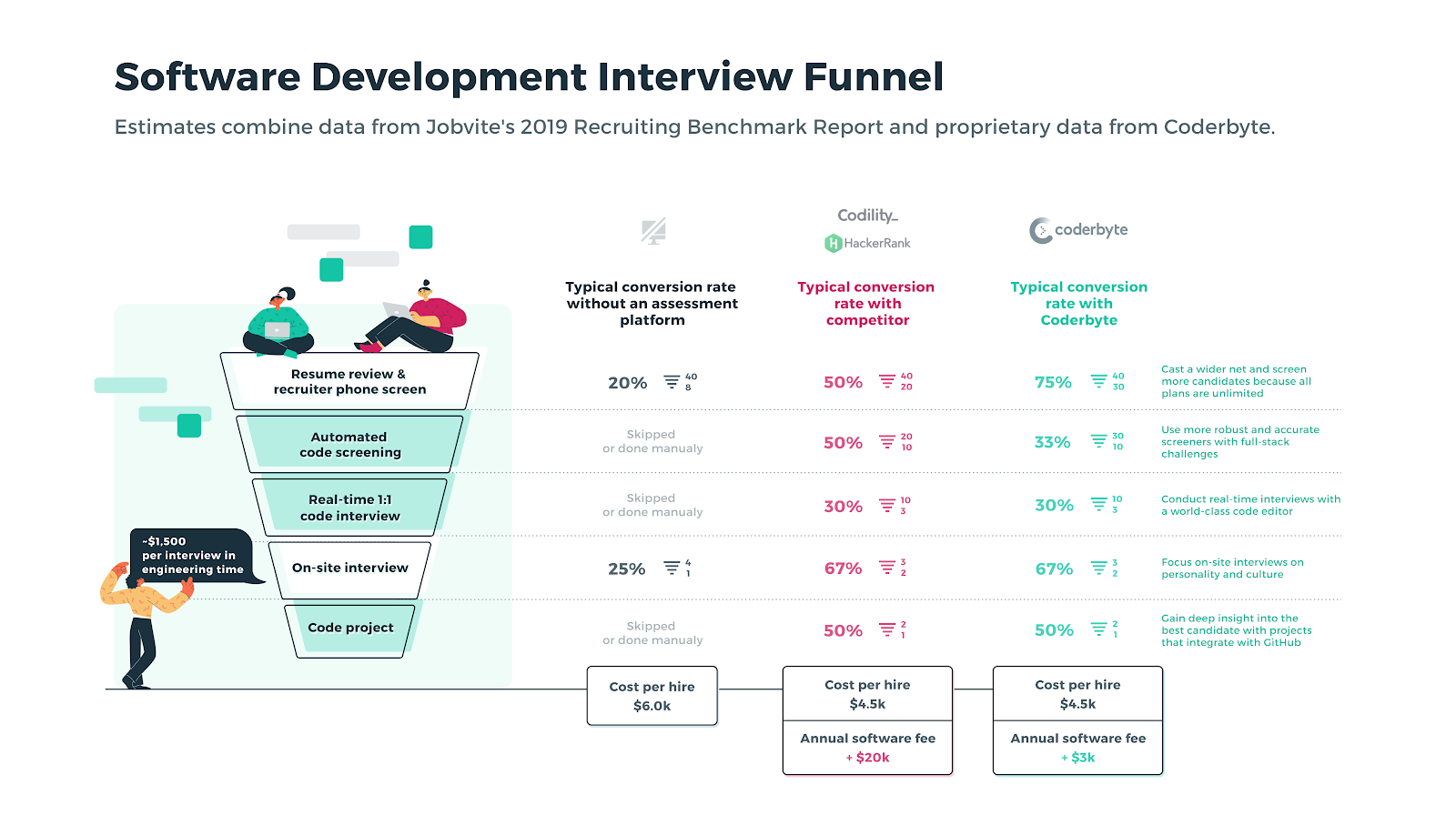 Finding top candidates that would have otherwise been overlooked
One of the unintended consequences of technical assessment platforms that charge per candidate is that recruiters are forced to haphazardly screen and prioritize candidates. Often this comes down to bias or merely recognizing familiar brands on a résumé.
"Coderbyte allows us to spend less time manually reviewing resumes," Aviner said. "Because we can send assessments to as many candidates as we want, we have a higher ratio of candidates that make it further into the interview process."
In fact, Coderbyte enabled Alpha to screen candidates with limited experience that might have been erroneously filtered out in a more manual review process. One recent candidate had the opportunity to demonstrate their skill and get their foot in the door for Alpha's interview process, which eventually led to the candidate being hired.
"We're not only saving time and money, but we're also hiring faster," Aviner concluded.